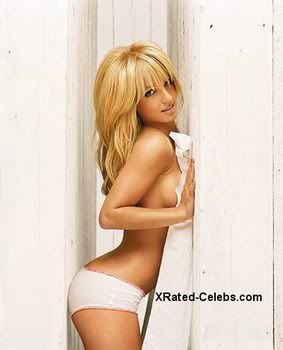 Britney Spears Lingerie Career
In 1997, Britney Spears briefly joined the all-female pop group Innosense. Later that same year, she recorded a demo solo and was signed by Jive Records. Britney Spears began a U.S. concert tour sponsored by American teen magazines, and eventually became an opening act for 'N Sync and the Backstreet Boys.
Britney Spears 's debut single "...Baby One More Time", which was released in October 1998, peaked at number one on the Billboard Hot 100 singles chart in January 1999, and topped the chart for two weeks. Britney Spears commented, "I just wanted to be on the radio. I didn't think it would be on the Billboard charts! I was so excited, I wanted to cry". Gillian G. Gaar, author of She's a Rebel: The History of Women in Rock & Roll (2002) documented that "eyebrows were raised over the schoolgirl-in-heat persona Britney Spears projected in her [music video for ...Baby One More Time], along with an increasingly revealing series of stage outfits. The album of the same name debuted at number one on the Billboard 200 album charts in January 1999. Rolling Stone magazine wrote: "While several Cherion-crafted kiddie-funk jams serve up beefy hooks, shameless schlock slowies, like "E-Mail My Heart," are pure spam". NME commented "[Britney Spears 's debut album and its title-track] are the kind of soullessness that saturates Stateside charts and consists of nothing but over-chewed bubblegum beats and saccharine sensibilities". In contrast, Stephen Thomas Erlewine of Allmusic wrote: "Like many teen pop albums, ...Baby One More Time has its share of well-crafted filler, but the singles, combined with Britney's burgeoning charisma, make this a pretty great piece of fluff". ...Baby One More Time was later certified twelve times platinum by the Recording Industry Association of America, denoting twelve million units shipped within the United States. She also appeared on the cover of Playboy Magazine. She is likewise acclaimed to have wide variety of brand new cars.